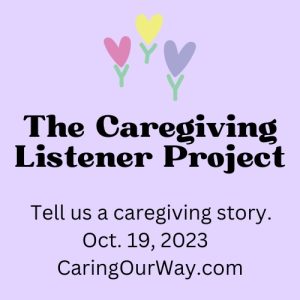 What's a Listening Artist?
One of the key principles I teach is that caregivers need to be heard! On October 19, I had a chance to practice what I preached. I became certified as a Listening Artist a few weeks ago. Last week, I participated in the "Caring Our Way" Event.
You might think there's nothing to it. Just "open your ears" and let the other person pour in their story. But conscious listening involves additional parts of the head. Your brain is important, and it also involves your heart. Have the compassion to clear your mind so you can take in someone else's tale. Part of it is an exercise in self-control. By that, I mean not saying much, using a comfortable amount of body language. You speak less. Use a small amount of verbal reassurance or give a considerate paraphrase. Crucially, find out what the other person needs from the conversation.
I learned about phrases that add and phrases that take away. One of the best encouragements a listener can receive is, "Tell me more."
Is listening all about the venting?
Surprisingly not. In fact, I listened to a caregiver who was bursting to share his joy about the things they could do, not about the woes of the patient's illness. That was a welcome surprise in our listening experience. This caregiver's joy and hope were contagious, and I left feeling uplifted.
Because the caregiver had been so anxious to share their story of caregiving, even the ups and downs of the patient's condition helped me to see how taking the long view and managing for moments of joy could be a beneficial gift of caregiving. Not surprisingly, this caregiver finds strength in his work day by choosing assignments that empower them to help other caregivers.
The Follow-Up?
While I know that some people's stories may include less joyful outcomes, I will continue to practice my listening arts in the expectation that I have more to gain from opening myself to other people's stories.